"Käräjäkivet" is a periodical publication of thought and criticism that was born from a wider project developed around a proposal which was never accomplished, concerning the Saivaara Monument, elaborated in 1978 by the legendary Finnish artist Tapio Wirkkala.
"In 1975, the President Urho Kekkonen expressed as his wish that his monument should be placed in northwestern Lapland, on the Saivaara mountain. […] How to make a monument on a site that is naturally so beautiful that one cannot take away anything from it, neither is man able to add anything to it? Tapio Wirkkala ended up with a proposal in which all the materials of the monument have been picked from the mountain itself.
The monument consists of a straight, paved, almost imperceptible path crossing over the Saivaara mountain. Five stones will be raised from the mountainside to the summit of the mountain, […]. These stones will form a circle, similar to the court venue stones of the old days [called in Finnish as "Käräjäkivet"], on which the wise men of the village got together in order to decide about common matters.
The one who has the strength to climb up the stony path may sit on these stones, look at the landscape and think.
This artless monument is not going to change or destroy the landscape."
Tapio Wirkkala Rut Bryk Foundation Archive, 1978
In this sense, this publication intends to accomplish, not in form but in content, the idea of Tapio Wirkkala for the Saivaara Monument: the creation of a place where men of all races and colors can gather together to think.
For that purpose, an online platform was created where different invited authors gather together through texts, illustrated and edited in small booklets, expressing their thoughts on architecture, art and culture in general, with the Saivaara Monument as the main driver.
Based in Portugal, it is published, as a general rule, every quarter, by adding a new text that can be viewed or downloaded online.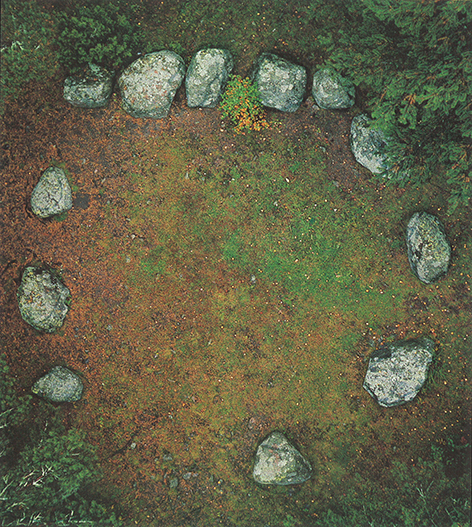 Käräjäkivet
Finnish word meaning "court stones" or "circle of stones": places of judgment (originally iron age graves), where judgments were held and justice carried out, accordingly to the Finnish National Board of Antiquities.
In the ancient times, they were important places where the primitive leaders of the North got together in order to discuss and decide about common matters.
PUBLICATION NAME:
DIRECTORS, COORDINATORS AND EDITORS:
Márcia Nascimento · Nuno Costa
EDITION:
Márcia Nascimento · Nuno Costa. Architects
LANGUAGE:
LANGUAGE ADVISORY AND TRANSLATIONS:
Ana Catarina Mesquita · Isidra Mencos · Nuno Costa · Aída G. Pinillos
GRAPHIC DESIGN CONCEPT:
Miguel Peixoto – Design.
Márcia Nascimento · Nuno Costa
KÄRÄJÄKIVET SITE PHOTOGRAPH:
© Rauno Hilander. Image Courtesy.
SUPPORT:
Jenny and Antti Wihuri Foundation · Arts Promotion Centre Finland · Direção-Geral das Artes · Finnish Cultural Foundation